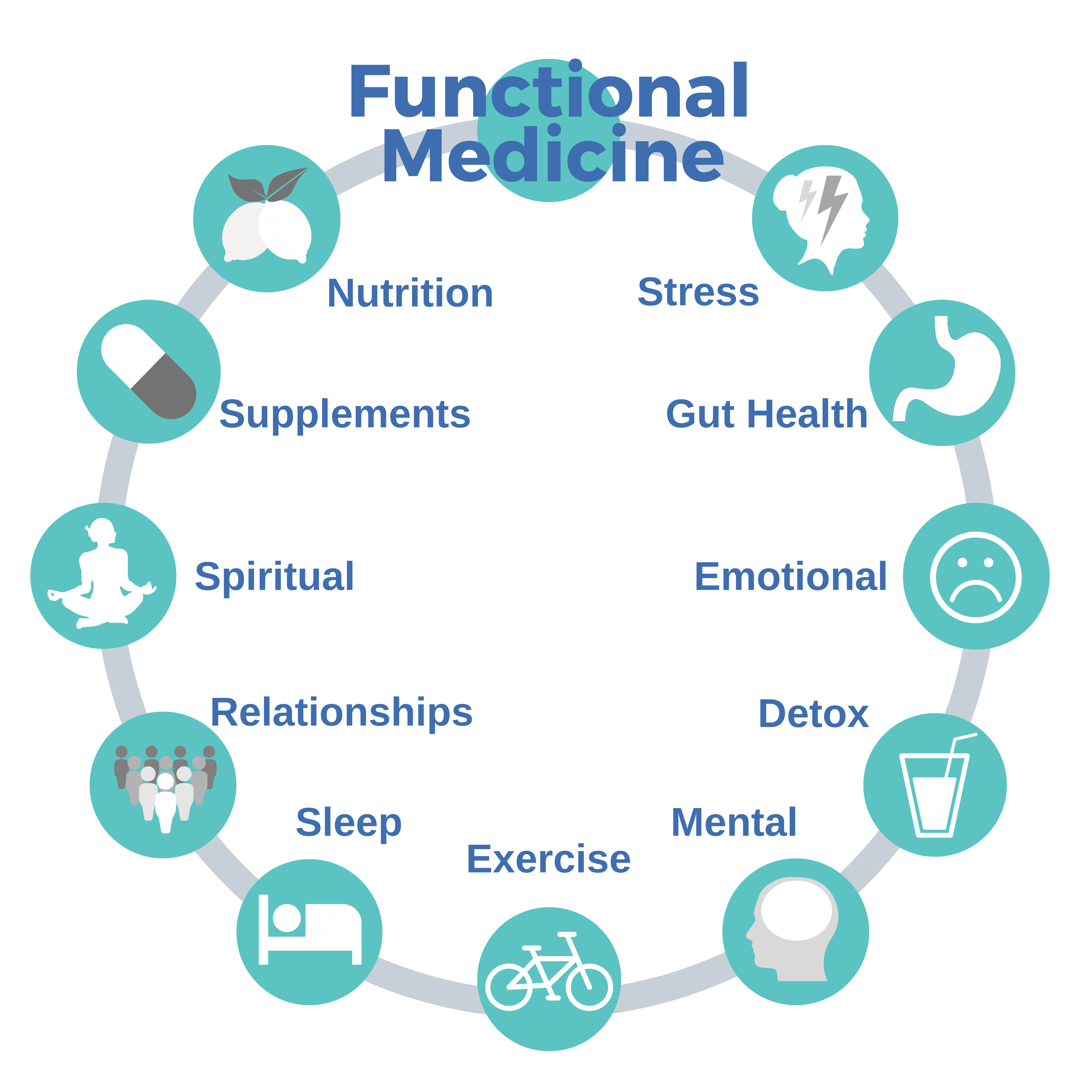 The functional and integrative medicine model is an individual, patient-centered, science-based approach that empowers patients and practitioners to work together to address the underlying causes of disease and promote optimal wellness. It requires a detailed understanding of each patient's genetic, biochemical, and lifestyle factors, including diet and lifestyle and leverages that data to direct personalized treatment plans that lead to improved patient outcomes.
Why isn't conventional medicine working? Why am I not getting better?
Functional health determines how and why illness occurs and restores health by addressing the root causes of disease for each individual. Here's the truth:
There is a reason you are still sick (or haven't achieved root-cause resolution to your illness or symptoms).

The conventional medical model is limited.

You might have gone about your chronic wellness issues the wrong way.

Your current provider might not be the right fit any longer to meet your specific needs.

And there are alternatives to what they have tried!
With root cause analysis healthcare, practitioners become oriented to identifying the complexity of the disease. They may find one condition has many different causes, and likewise, one cause may result in many different conditions. As a result, Functional Medicine treatment targets the specific manifestations of disease in each individual, including (but not limited to) the following:
Thyroid disease, Hormone Imbalances, Adrenal and Stress Imbalances, Antiaging and Telomere testing,

Autoimmune, Leaky Gut, Nutrient Deficiency and Food Sensitivities, Celiac and Gluten Allergy and Sensitivities,

Lyme Disease, Chronic Fatigue and Fibromyalgia, MTHFR Genotype,

Toxic Conditions, Heavy Metals
ADVANCED PRACTICE CLINIC IS NOT AN URGENT CARE OR EMERGENCY ROOM. FOR CONDITIONS WHICH INVOLVE CHEST PAIN, SEVERE SHORTNESS OF BREATH OR DIFFICULTY BREATHING, HEAD TRAUMA, NEW ONSET SEIZURES, SEVERE BLEEDING, BROKEN BONES SHOULD SEEK IMMEDIATE TREATMENT AT A FULL SERVICE EMERGENCY ROOM