When it comes to weight loss it's easy to feel frustrated and defeated along your journey. If you feel like you are fighting an uphill battle it might be time to seek help. We all have different health goals, needs and body types. It matters when someone takes the time not only to address those concerns but take your health goals personally. So why not choose a weight loss plan catered to YOU and is sustainable for long term results?
At Advanced Practice Clinic, we believe that achieving optimal health through functional medicine should be available to everyone. By making customized and affordable medical weight loss programs. 
But how do we go about customizing your very own medical weight loss and wellness plan, that's tailored to YOU and your body, your specific needs – without racking up high medical weight loss cost? Learn more about how Advanced Practice creates customized Weight Loss Plans below.
We customize YOUR plan using Functional Medicine.
Functional Medicine looks to find ways to reach YOUR state of optimal health. Not everyBODY is the same, so our methods should be just as diverse as you are. The key to lifelong health is taking care of YOU, your body and the root cause of your symptoms. Many long term health issues, including weight gain, can be tied to deeper problems that are often overlooked. 
If you're finding it hard to lose weight, you aren't alone. We all have a different set of genes, hormones and metabolic makeup that will respond differently to different methods, so sometimes a medical weight loss program (like ours here at Advanced Practice Clinic) is the best option. Oftentimes, it's due to underlying factors that are preventing sustainable weight loss such as thyroid function, insulin resistance, hormone imbalance or adrenal health. Not only can these factors prevent sustainable weight loss but they can also create greater health risks when you try to lose weight.
Participating in a medical weight loss program will help you find the right method that works for your genetic makeup. Working with a specialist along with our certified nutritionist can help unearth any underlying factors that might be preventing sustainable weight loss. We can help you create a plan to address any medical conditions that need to be fixed first in order to safely lose weight and keep it off long term. 
How Much Does Healthyweigh Cost?
Our Medical Weight Loss Program, Healthyweigh, begins with a comprehensive initial assessment that includes the following for an initial fee of $264:
EKG

Diagnostic Lab Testing

Initial Medical Examination

Initial Body Composition using our FIT3D Scanner 
Following your comprehensive assessment, you then have Healthyweigh Plan Membership Options, depending on your goals, needs, and budget.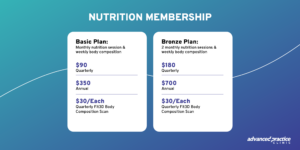 Nutrition Membership:
Basic plan

: monthly nutrition session & weekly body composition 

Quarterly $90 | Annual $350

Quarterly Fit3D Body Composition Scan $30/each

Bronze Plan

: 2 monthly nutrition sessions & weekly body composition

Quarterly $180 | Annual $700

Quarterly Fit3D Body Composition Scan $30/each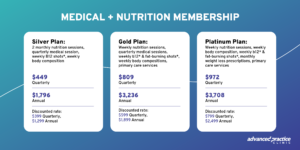 Medical/Nutrition Membership:
Silver plan

: 2 monthly nutrition sessions, Quarterly medical session, Weekly B12 shots*, Weekly body composition.

Quarterly $449 | Annual $1,796

Discounted Rate – Quarterly $399 | Annual $1,299

Gold plan

: Weekly nutrition sessions, Quarterly medical sessions, Weekly b12* & fat-burning shots*, weekly body compositions, Primary Care services.

Quarterly $809 | Annual $3,236

Discounted Rate – Quarterly $599 | Annual $1,899

Platinum plan

: Weekly nutrition sessions, weekly body composition, weekly b12* & fat-burning shots*, monthly weight loss prescriptions, Primary care services.

Quarterly $972 | Annual $3,708

Discounted Rate – Quarterly $799 | Annual $2,499
Use Healthyweigh to Create a New Lifestyle
Sustainable weight loss begins with making a change to your lifestyle. Whatever you do to lose weight, it needs to be a change that you can realistically maintain for the rest of your life, because biological factors will fight you every step of the way.
Maybe you need to decrease your alcohol consumption, or maybe you decide to take up an active hobby such as hiking or rock climbing. Maybe you decide to start taking the stairs rather than the elevator or parking farther away from your work and walking. Little lifestyle changes can result in long-term results. Whatever you decide, these small lifestyle shifts when practiced consistently can lead to more sustainable, healthy habits. It's not always simple, but your health is worth it.
The healthcare practitioners at Advanced Practice Clinic are skilled at helping you create a personalized plan that is realistic, healthy and geared toward long-term change.
Ready to get started?
We care about your quality of life. While diets and exercise may have failed you before, our unique approach can help you achieve a healthier, happier and sustainable you. Our medical weight-loss program provides positive, lasting change, while offering support, accountability, and personalized attention every step of the way.
We're ready to celebrate with you as the numbers on the scale go down and you start to fit into clothes you haven't been able to wear in years! We believe our individually-tailored weight loss programs are the key to developing permanent, healthy lifestyle changes.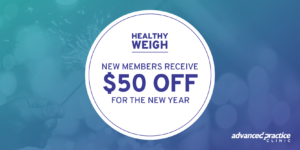 Are you ready to get started?
Contact us today, and let us customize your very own weight loss plan with our Healthyweigh Program!
CONTACT US