ADDITIONAL INFORMATION
Healthyweigh Program Details
This medical weight loss program is designed around you! All participants start with a comprehensive health screening which includes fasting lab panel, EKG and medical evaluation to ensure you are ready to lose weight safely.
Basic labs including CMP, CBC, Lipid panel, Hemoglobin A1C, and a TSH are included in the base HealthyWeigh program. Your program begins with an initial consultation with our licensed healthcare practitioners, followed by monthly follow up examinations. For extra support, you can add on weekly weigh-ins. 
At the conclusion of your first visit, you will be scheduled to return in 2 days to be seen by a healthcare practitioner to conclude your medical exam, review lab results, discuss your weight loss program and provide direction on your medication(s). 
You'll receive a customized nutrition and wellness plan that's easy to follow and created with your goals in mind. Additionally, you have access to the online wellness portal website with recipes and exercise recommendations. 
Our expert staff will recommend needed supplements, products and medications to help. If you qualify you may add an appetite suppressant to any program or develop a program around this medication. Options include: Phetermine, Phendimetrizine, Qsymia, Topirimate and Contrave).
Results may vary from patient to patient. Rapid weight loss is contraindicated with certain medical conditions and should only be considered by those who are medically appropriate.
Fit3D Imaging
Our Fit3D scanner is one of the best digital body scanners on the market. It helps give us a full and complete view of your body composition throughout your weight loss journey. You'll be able to track your progress with detailed and accurate wellness metric measurements of body fat percentage, lean mass, fat mass, basal metabolic rate and more!
Fit3D scanning – See an example report 
Patient Wellness Portal
We've made it easy to track your progress using our Patient Wellness Portal. Through the portal, you have access to diet and activity tracking, body composition reports and Fit3D scan body composition reports.
Nutrition Coaching
Our certified nutrition coaches are well-versed in general nutrition principles and familiar with common dieting plans such as 16:8 intermittent fasting, keto, paleo, and the different benefits of each. They understand that every individual's weight loss journey is unique, and they are here to provide personalized guidance and support based on your specific needs and goals. By understanding your unique circumstances and taking the time to discover the root causes of your weight gain or past difficulty losing weight, they can develop personalized nutrition plans tailored to your needs and preferences.
Additional Supplements and Services
Treatment plans are very individualized and based on your specific medical needs. Some clients have underlying medical conditions which make losing weight more difficult. If this is the case, we will work with you to develop a plan which is best suited for you. This may include addressing sub-optimal thyroid, adrenal dysfunction or hormone imbalances with additional supplements.
Additional supplements and services available: 
Weight Loss in a box 1-time fee of $150 – this is a integrated scale which will upload into our wellness portal and additional exercise and diet tools. 
B12 shots – $15
MIC ultra Fat-burning shots – $20
Super Shot – Combines a full B12 and MIC Ultra shot – $30
Healthyweigh Office Visit each – $59
Advanced thyroid testing – $132
Advanced Glucose Metabolism testing – $79
Salivary Hormone Testing – $259
Food Sensitivity Testing plus wellness plan – $210
Semaglutide injections – $400 per month (4 weekly injections)
MOTc – $500 per month (4 weekly injections)
Nutrition sessions include: Reviewing patient wellness portal and diet/activity plan, reviewing body composition via wellness portal, and Fit3D scan body composition. May be done in person or virtual if desired. Virtual requires weight loss in a box option. They may also work with clients to arrange partnering with local personal training options and a Registered Dietician evaluation for an additional charge. 
Body Composition includes body weight, BMI, Body Fat% Impedance analysis and waist circumference,
Fit3D scanning – See an example report 
Appetite Suppressants 
Like most prescription drugs, appetite suppressants work with chemicals called neurotransmitters in your brain. They actually stimulate your neuron bundles to release a particular group of neurotransmitters known as catecholamines. These include dopamine, epinephrine (formally known as adrenalin), and norepinephrine (noradrenalin). They signal a "fight‐or‐flight" response in your body which puts a halt to the hunger signal. As a result, you lose your appetite because your brain doesn't receive the hunger message. This is due to the effects on leptin levels in the brain. It is theorized that appetite suppressants can raise levels of leptin which signal satiety. 
Options include: Phentermine, Contrave, Phendimetrizine, Topirimate, or Qsymia. 
To renew your prescription a follow up appointment is required for each 30 day prescription of an appetite suppressant. Every patient is required to be seen by the healthcare provider for each 30 days' prescription.
B12 Methylcobalamin
Vitamin B‐12 is a water soluble vitamin that is one of eight essential B vitamins. It helps maintain healthy nerve cells and red blood cells and is also needed to make DNA, the genetic material in all cells. B‐12 is vital in keeping your body running in top condition. While B‐12 is found naturally in a healthy diet, factors like stress or poor eating habits can lead to a deficiency. A deficiency can have serious negative effects on your body. 
We offer B‐12 injections to help your body operate more effectively and efficiently, and, of course, help you lose weight. While this may not take off the pounds by itself, B‐12 can get you up and moving. Injections naturally increases the metabolism, resulting in increased energy levels and weight loss.
The benefits of B12 include: 
Increased Energy
Mental Alertness and Clarity
Healthier Immune System
Improved Sleep
Reduced Allergies
Reduced Stress and Depression
Lessened Frequency and Severity of Migraines and Headaches
To see optimal results, injections are recommended weekly.
MIC Ultra 
Our most popular add on, MIC Ultra is an all-natural way to help boost patient metabolism and help with weight loss along with diet and exercise to have optimal results. It's a proportional blend of several ingredients, each of which help with energy levels and weight loss form a different angle. Each of the ingredients has a long track record of safety. By combining the ingredients in this proportional manner, you receive a synergy of the benefits of each. 
It can provide the boost patients need to get started losing weight by increasing their energy level with an optimal 5-pound weight loss per month.
Ingredients: Vitamin B12, Vitamin B6, Chromium Chloride, Choline, Inositol, Methionine.
To see optimal results, injections are recommended weekly.
Super Shot (B12 plus MIC Ultra) 
Combine a full dose of B12 (1,000mcg Methylcobalamin) PLUS the MIC Ultra injection for the best bang for the buck!
Garcinea Cambogia 95% HAC
This is a maximum strength appetite suppressant for $39 bottle. 
Pricing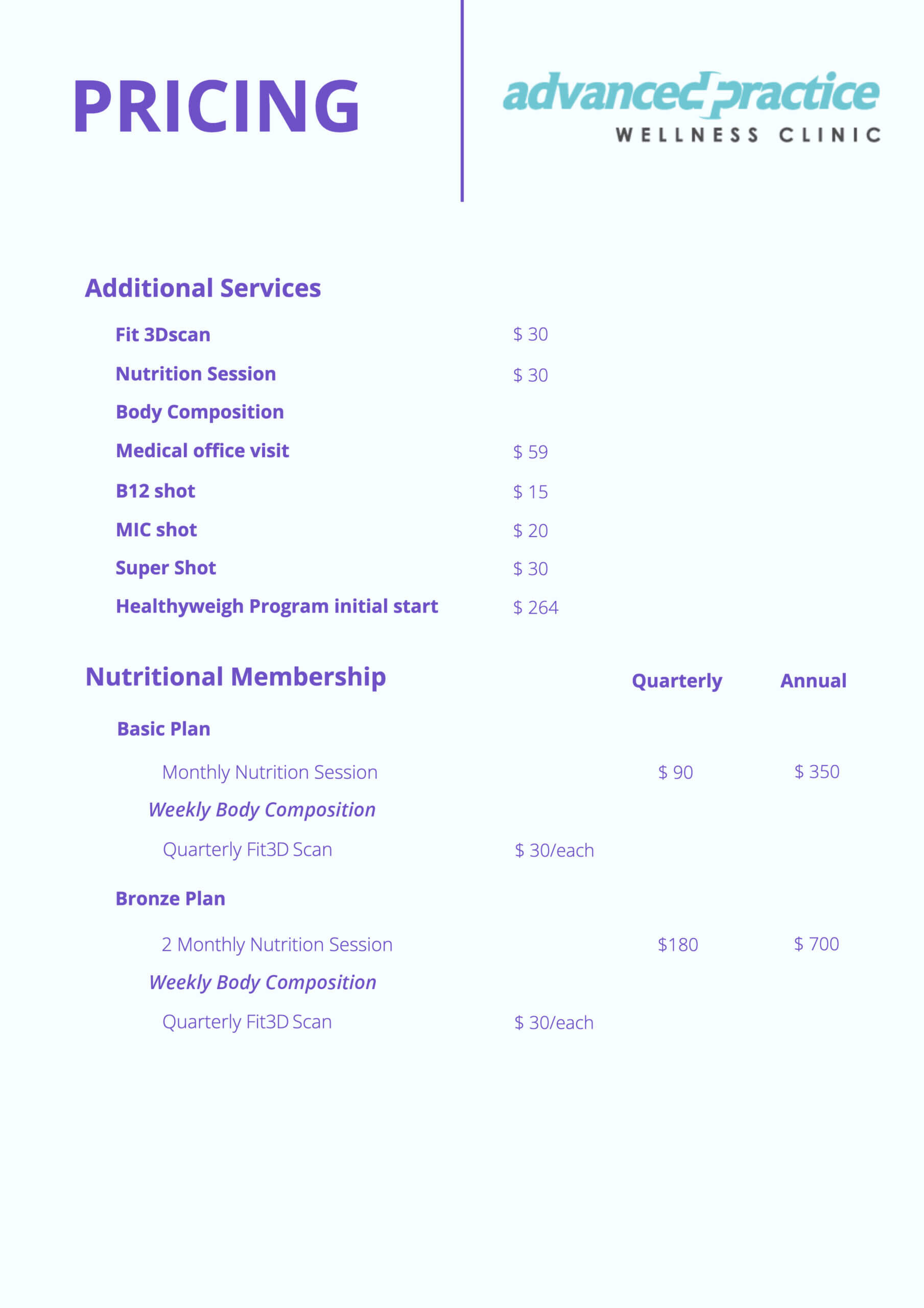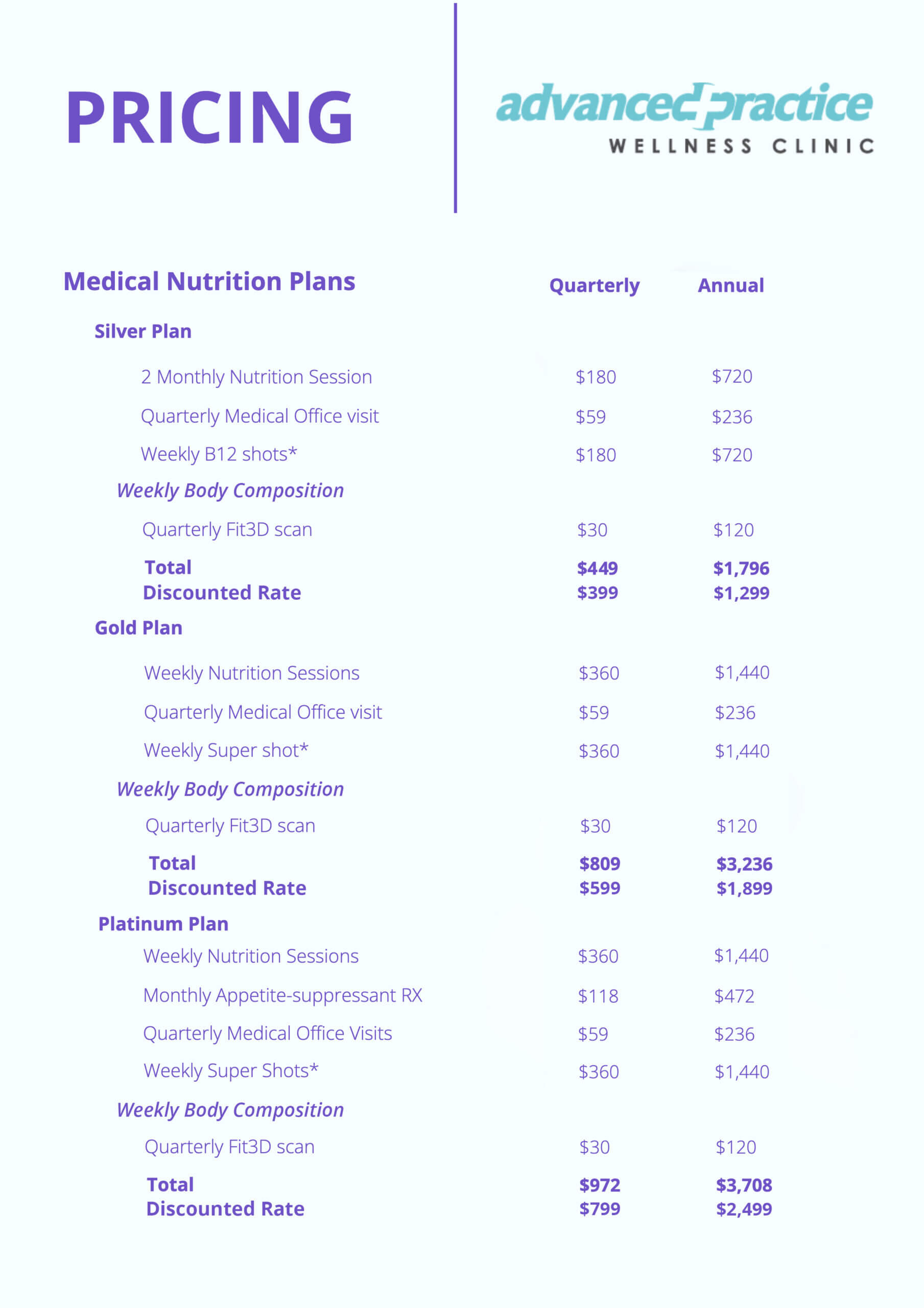 Weight Loss Injections
Weight loss injection description coming soon.
What Our Patients Are Saying